Sports
| CanVelo Dragon Boat Group

The Canvelo Sports Teams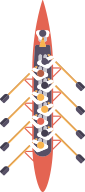 Team sports are socially engaging and develop feelings of belonging, accomplishment, and self-confidence. For this reason the IGDCB sponsors a unique sport club appropriately named "CanVelo",  that integrates sighted volunteers and people with blindness. The name "CanVelo" means "Yes and No",  referring to the members who can and cannot see. Their motto is "Yes We Can!"
In addition to providing a supportive and nurture framework for blind and visually impaired people to keep fit and meet participate in the world of sports,  CanVelo groups are located across Israel. They use their platform to increase public awareness about the needs of persons with visual impairment, the importance of guide dog use, and the work of the IGDCB.
The CanVelo Dragon Boat Rowing Team
When Dragon Boat racing was introduced in Israel in 2011, CanVelo  formed a Dragon Boat rowing team that would compete in various rowing competitions.
The team has won national and international competitions in Tel Aviv and at the Sea of Galilee.